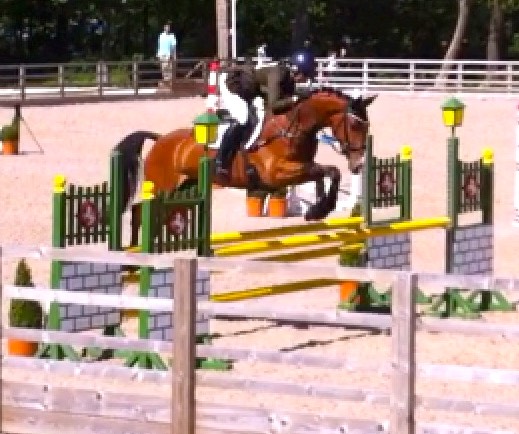 Born 16th June 2006 
By International  Gold Elite Show Jumper Cabri d'Elle (Selle Francis) out of On Song
Cabri d'Elle competed on over 30 nation cup teams and at the World Equestrian Games with Scott Smith. He then went on to compete at the 2008 Olympics with a young Spanish girl. 
Cabri d'elle's sire was Sheriff d'elle and his sire was Jalisco B. (Salle Francis) who competed at the Seoul Olympics in 1988. Cabri d'elle's mother was Selle Francis and both her dam and sire were Selle Francis, all being Grade A jumpers.
Lilly is wonderful in the stable, I honestly think, given the chance, she would curl up and go to sleep at the end of our bed. If she was a dog she would be a cuddly lap dog, that said, she has not been the quickest to produce.
On Show's first real outing was at Bishop Burton Horse Trials in May 2012 where she contested the BE100 class.
All went very well. With a good dressage in the 20s and double clear proving to be bold and honest, she took 7th place in a very full class to everyones delight.
On Show is  very good to do, in her competition environment, and takes everything in her stride.
August 2013 - On Show is now jumping consistent double clears at Novice and 1* level Eventing, and is producing consistently good dressage tests
On Show is competing at Foxhunter level British Show Jumping, showing balance rhythm and huge scope with a careful jump.